Each year PACEperformance offers a unique training opportunity for anyone who might be interested in getting a jump on the spring training scene. All fitness levels and abilities are welcome.
PACEperformance has been organizing warm-weather triathlon, biking and running camps for nearly three decades. Each camp has a different focus and before each participant arrives, we make sure we have an agenda that will meet your specific needs. Tucson Arizona has become one of North America's greatest training cities for cycling, triathlon, running, hiking and yoga/core.  With over 325 sun filled days, it's the perfect place for an active, warm training vacation.
YOUR COACH: A multiple Ironman finisher and owner of PACEperformance, Greg Pace has been coaching Triathletes for more than 30 years and is one of the most respected minds in triathlon.  He has coached all levels of athletes, ranging from absolute beginners to world champion contenders. He has established PACEperformance to be a premier age group athlete training organization and trains athletes who race all over the world at every distance. Greg will be the head coach for the 2017 Triathlon Camp.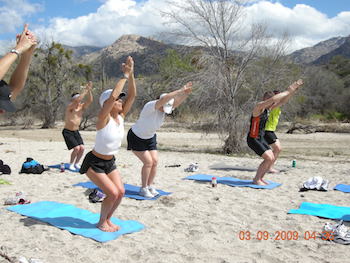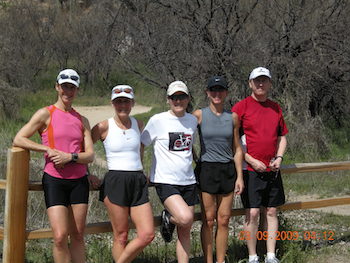 MT LEMON FACTOR: No City in North America has a more exciting series of different ride routes to pick from. Most famous is the epic 25mile/40km MT LEMMON ride. Start with cactus in the desert at milezero and end the 25 miles next to the snow-boarders at the top of Mt Lemmon and get your well-earned cookie or slice of pizza at the top of the mountain. Camp staff always supports all riders with van support up the mountain.
HEATED OUTDOOR SWIMS:  For 2016 we have access to the newest pool in Oro Valley – only 4km from our condos. This heated outdoor facility features a 50m long by 46m wide lap pool, with brand new well appointed heated and air conditioned change rooms and showers. Even if you're not in a triathlon camp, there is still a chance to get in a swim or two during the week. The camp condos also have a large pool and hot tub right on site for easy swims or cooling off and relaxing.
BOULDER CANYON CONDOS AT LA RESERVE: The primary location for most of the campers will be at the World-Class Boulder Canyon Condos at La Reserve. The condos are 1, 2 or 3 bedrooms. Each condo has a complete kitchen, living room, 1-2 bathrooms and access to a beautiful hot-tub, swimming pool, weight room and business office. A great mini-mall with grocery stories and coffee shops is located 500m from the condo. Boulder Canyon Condos
BRAND NEW CONDOS for 2016 – EXCANTADA LUXURY APARTMENTS
New for 2016, just 500m from where we have stayed for the last decade, are the new Encantada Luxury Apartments. PACEperformance has moved to these new fully furnished condos because of the additional luxury of bigger condo pool, brand new weight room, restaurant/coffee shop on the property, indoor movie theatre for group evening activities and BBQ area for team socials. These new, fully stocked condos are 2 and 3 bedrooms. Each condo has a complete kitchen, living room, 1-2 bathrooms with TV and wireless internet. Just one km from the local grocery stores and restaurants, the condos are perfectly situated. The mountains are one km away and the bike and run pathway is immediately behind the condos. Enjoy 500km of protected bike lanes right outside your door.  Encantada Luxury Apartments
Please note there are a limited number of these units available. They will be reserved on a first come first serve basis.
ROOMMATES: If you are looking to reduce costs by sharing a room, we will do our best to identify a suitable roommate for you.
 WINGATE WYNDHAM ORO VALLEY TUCSON ARIZONA: For those with camp arrival and departures dates outside the camp time line, there is the Wingate Wyndham hotel located 500m from the camp condos (and our base). The hotel could be used for a day before/after the camp, or as your primary camp residence. Simply purchase the non-residence camp option (detailed below). The Hotel has a weight room, pool, hot-tub, comes with a great morning breakfast and in room microwave and mini fridges to allow modest in room cooking. If we run short on camp condos, or are unable to find a roommate combo for you, the Wingate Wyndham hotel may be a great option. See hotel details at http://www.tucsonwingatehotel.com
NEARBY UPSCALE HOTELS AND SPAS: If you are looking to "live-it up" there are numerous Spas and Four and Five Star Hotels very close to the other camp accommodations
TRI-CAMP FOCUS: Each athlete will be following customized programs that are designed to meet your specific needs. In general, tri-camps will focus on 1) cycling, 2) swimming, 3) running, 4) core & injury prevention and 5) hiking/seminars. Individualized changes will be made based on specific participant needs.
TUCSON HIKES: Tucson has some of the most prestigious hikes in the world. Each tri and bike camp will have 1-2 optional, awesome hikes during the camp. For those who have been to previous camps, additional new hikes will be added for 2016.
GOLF: for those who may enjoy a little putting around, Tucson boasts some of the best golf courses in the world.  Anyone interested in a mid-week departure from the swim, bike and run can join us for a leisurely, (yet most likely, frustrating) golf day.  Golf would be a pay as you go option and is not included in camp fees.
VAN SUPPORT: Each camp has an option of going in the team van or having your own transport, to give you more freedom.
BIKE TRANSPORTATION: We are exploring the option of having someone drive a van down with bicycles.  There will be an additional cost for the service. Stay tuned for updates.
SPECIFIC CAMP
7 DAY CAMP PRICE

PACEperformance TRI CAMP WEEK

April 9th-16th 2016

4 campers in condo + van support
$1,199.00
4 campers in condo  with NO van support
$1,050.00
3 campers in condo + van support
$1,275.00
3 campers in condo with NO van support
$1,150.00
2 camper in condo + van support
$1,450.00
2 camper in condo with NO van support
$1,350.00
Single person in a condo + van support
$2,250.00
Single person in a condo with NO van support
$2,100.00
Daily camp fee with no accommodations /van
$100.00
Prices in USD and all in. No taxes to be added.
A $200 CAD non-refundable deposit is required to reserve your spot. Once a deposit has been received, camp coaches will send you more information to fine-tune your accommodation, transportation, bike transport, camp goal needs.
ALL CAMP FEES are in USD and include:
Daily personalized coaching and resources with world-class sport leaders
Accommodations
Camp swag bag filled with necessary products to improve your training experience
I climbed Mt Lemon Celebratory Souvenir Gift
Van Support up/down the mountain (if required)
Van support over the week  if you have purchased this option
Camp seminars
Final camp social
A guaranteed great time with world-class support and weather
Camps can be extended by starting 1-2 days early or staying 1-2 days longer. A small additional fee will be included to cover the extra condo days. No extra cost for non-camp partners who are staying in your room during the camp.
Contact Greg Pace for more information and to book your spot – we are limited, at this time, to 30 people.greg@paceperformance.ca